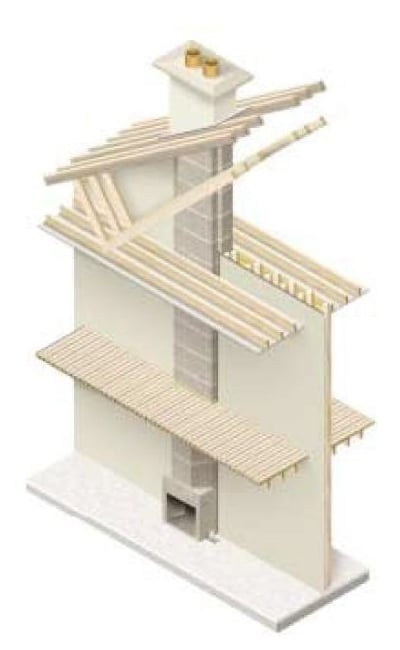 The Perla Lite Chimney System consists of lightweight concrete outer chimney blocks, acid resistant clay internal flue liners which are surrounded by a preformed moisture resistant Rockwool insulation. Each system is factory assembled in pre-determined lengths from individual blocks units to order, then transported to the site and installed by trained installers. Each assembly is reinforced with steel rods and a series of special connectors/anchors which are tightened together with nuts to a preset torque of 4Nm on both the factory assembled sections and on final installation on site. The chimney system is available in both single and double assemblies with appropriate fireplace units.
The Single Flue Perla Lite Chimney consists of a fireplace unit and gatherer cast in normal dense concrete and chimney blocks typically 445mm x 445mm x 435mm high, in lightweight concrete. The Double Flue Perla Lite Chimney also consists of a fireplace unit and gatherer cast in normal dense concrete and assembled with two different dimensional chimney blocks. The lower "Shamrock" blocks typically 970mm wide x 435mm high x 900mm deep, and "standard" blocks 970mm wide x 435mm high x 445mm deep.
Both Single and Double Chimneys incorporate
200mm nominal acid resistant rebated flue liners jointed with a proprietary acid resistant mortar. The flue liners are surrounded with a high temperature moisture resistant rockwool insulation.
Glass Reinforced Concrete corbels, Glass Reinforced Plastic covers and prefabricated dense concrete capping units.