Vandal-proof, fire-proof, water-resistant, durable, versatile, and cost-effective; it is not surprising that executives in the finance department, when scrutinising plans for new developments or upgrades of existing buildings, regard precast concrete as one of their favourite materials.
Ease of Installation
Croom Concrete's precast units, manufactured under controlled factory conditions, can be used for practically every purpose for which traditional materials had their place, and can do so for less money. Scheduling and time management is simplified by the fact that installation is not affected by adverse weather conditions, and Croom's efficient and effective 'just in time' delivery procedures cut on-site storage costs to the minimum. In many cases, installation can be carried out by semi-skilled labour using machinery that is already on-site; Croom's technicians and designers have built lifting points and slots into the units so that they can be accurately placed by means of fork-lift trucks or vehicle-mounted hoists. For projects that require skilled labour, Croom's own teams of experienced and qualified installers are accustomed to working alongside site managers and architects to achieve the finished product within budget and on time.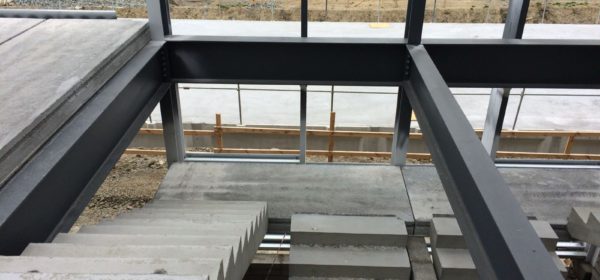 Precast Stairs
During the building process, precast stairs, which Croom manufactures in a range of sizes, provide quick, easy and safe access to upper storeys without the need for scaffolding. Cast upside down in Croom's stainless steel moulds, the upper surface of the flights is smooth and dense, so can be clad in whatever finish the interior designer chooses; carpet, laminate, wood, or tile. Strong, durable and more fire-resistant than almost any other material, concrete staircases are proving their value in both commercial and residential sites, and their added safety benefits are finding favour with fire inspectors and insurance underwriters alike.

Box Culverts – Resistance to Flooding
In low lying areas, particularly on flood plains, any construction work bears the burden of potential storm damage. Traditional foundations, no matter how sturdy or well-constructed, cannot remain unaffected by soil movement caused by flooding, and planning departments considering such enterprises are demanding high standards of flood protection. Croom Concrete's precast box culverts are proving of enormous value and benefit when they are used as storm drains and balancing tanks, diverting floodwater into watercourses, or storing it until it can safely be released.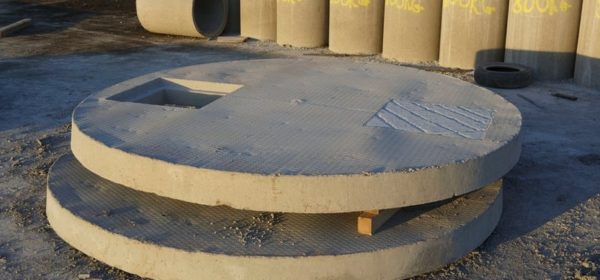 Planning for Flash Floods
Immensely strong and durable, with a smooth finish that resists snagging and blockages by debris, box culverts are an excellent defence against the damage that can be caused by flash floods. At the beginning of a building project, they can be laid down before the structural work begins, allowing potential floodwater to pass underneath the building. In this way, there is no loss of valuable construction space. Where necessary, box culverts can be laid down side by side as a series of multi-cell culvert installations, which allows for a greatly increased flow, and may well pre-empt the need for further work should flooding be found to be more serious than originally anticipated. Financial planning where maintenance in concerned will see a marked drop in budgeting requirements when Croom's precast culverts are used; easy inspection using precast concrete manholes, and no corrosion, as was the case when steel was the preferred material.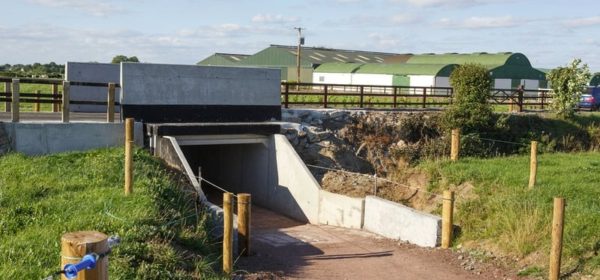 Cattle Underpasses
The need to cross increasingly busy roads for milking imposes a heavy burden on the time of stockmen and women. Cattle underpasses are a convenient and cost-effective solution; in addition, concrete tunnels are less stressful for livestock than being hurried through a road crossing. Croom's precast box culverts, which can be installed with minimum delay and disruption to road traffic, are an excellent solution.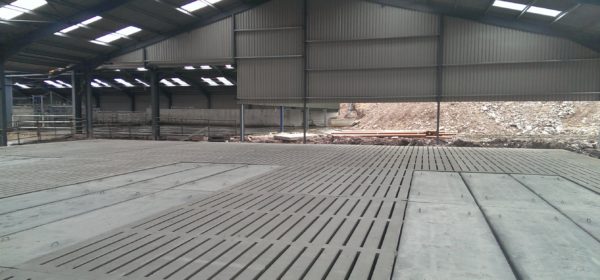 Labour-Saving Livestock Housing
In the agricultural sphere, farmers are finding Croom's precast concrete products of great financial benefit. Farming is for the most part labour intensive, and, particularly where livestock is concerned, highly skilled. Stockmen and women have better ways of spending their valuable time than in 'mucking out' cowsheds and livestock housing. Now, carefully designed and manufactured cattle slats, slurry channels and effluent tanks free skilled staff from heavy and tedious tasks and allow them to concentrate on work that benefits from their skills. Well-designed and durable farm buildings are not only safer and more convenient, but they also add value to the business, and, where they replace structures that were made of flammable materials, they will continue to provide value in the form of reduced insurance premiums.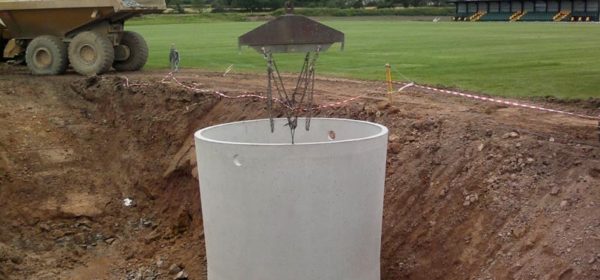 Waste Tanks
The cost of excavation and installation is a major factor in the planning of a waste tank system. It follows that the durability of the tank will be of prime concern to financial planners. Croom's concrete waste tanks are corrosion-resistant, and having been manufactured off-site in factory-controlled conditions, can be expected to function effectively for many years.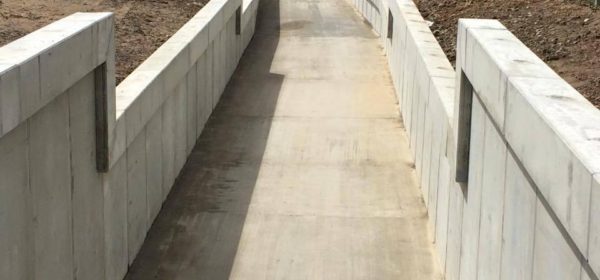 Concrete Retaining Walls
One potential problem to be anticipated from a changing climate is ground instability resulting from heavy rainfall. The Irish Times recently reported:
"Ireland and much of northern Europe is seeing an increasing number of landslides, coinciding with more extreme weather patterns, according to the Geological Survey of Ireland (GSI)… The key to assessing the potential for landslide susceptibility in Ireland will be the compilation of a national database on previous landslide events. Climate change and the increase in the incidence of heavy rainfall are also believed to affect the stability of slopes."
Financial planning for future land development must take account of the danger of mudslides and landslips. A gradient which at one time might be considered safe, may in the future pose a risk. Croom's concrete retaining walls can be a valuable resource when planning for safe future land use.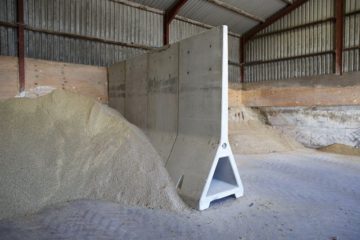 Versatile Movable Walls
The cost of space, whether in commercial concerns, farms, or civil engineering projects, is rising year on year, and as a result, there is an increasing demand for flexibility in its use. Croom Concrete's cleverly designed moveable walls, which can be installed, disassembled and moved by semi-skilled workers using machinery that is almost always already on-site, lead the field in versatility. Storage bays can be set up quickly and safely, bolted into place, and then taken down and used for a different purpose when that need ceases to exist. On building sites, they have been used to store aggregate, gravel, sand and other materials. On farms, the bays have been used for crop, grain and soil storage.
Recycling and Re-Use
Environmental concerns have built materials recovery facility bays. In every case, their users have been confident in knowing that, should their needs change, the walls can be unbolted, disassembled, and used for a new purpose with the minimum of lost time and disruption. Versatility and value for money have made Croom Concrete's A- and L-walls and Bunker Building Blocks a favourite with site managers, designers and finance departments throughout Ireland and the United Kingdom, and with very good reason. They are cost-effective, durable, and more flexible than any other comparable product.
Effective Financial Planning for Future Needs
Precast concrete is playing a part in almost every sphere of the built environment and agricultural sectors, and Croom Concrete's research and development teams are ensuring that their excellent products lead the field in value for money. High quality, durability, strength, simplicity of installation and maintenance; it is no wonder that these products are favourites, not only with architects and project managers but also with financiers.