Climate change is never far from the headlines today, and at Croom Concrete our research and design teams work hard to ensure that Croom's pre-cast concrete products will continue to match the challenges that climate change lays in the paths of urban development, flood protection, stormwater diversion and storage, and the many other demands that are made upon it.
Concrete is the ideal material to meet the challenge of floodwater, and Croom's pre-cast box culverts, when used to channel water away from endangered sites, are not only robust enough to handle sudden floods; they are also cost-effective, simple to install, and durable. Precautionary work in flood prevention used to be labour intensive, arduous, and easily delayed or damaged by adverse weather conditions. Concrete mixed on-site needed to be shuttered, poured and cured, and it took time to reach its maximum strength. Unless the labour force was very skilled, even then the finished product might not be satisfactory. Cracks and weaknesses could be caused by settling, the surface might be uneven, and so subject to snagging debris, which can cause dangerous blockages, and testing for faults can only be uncertain.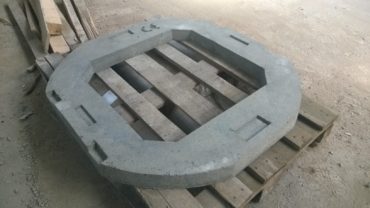 Croom's pre-cast units are manufactured under controlled factory conditions, delivered on-site on a just-in-time basis, and can be installed by Croom's skilled and experienced teams. Planning and scheduling do not need to take weather conditions into account. The smooth and dense surface of Croom's box culverts, manholes and other drainage products ensures water will pass quickly through the planned diversion, with the risk of blockages minimised.
Croom Concrete's products are suitable for projects of every size, from major infrastructure, to ensure that potential floodwater is diverted under threatened roads or railway lines, or redirected to safeguard electricity transformers and sub-stations, to small farms, where flash floods could overwhelm slurry storage systems and cause damaging contamination of rivers and water tables.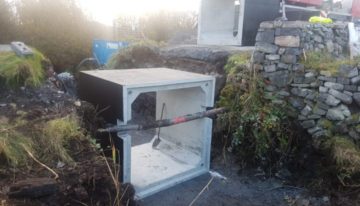 Agriculture is another area where these units come into their own, as stream culverts, where they not only give peace of mind to the landowner who fears floods but also increase the drainage in places that are subject to poaching after prolonged rain. Farmers benefit from the easier movement of machinery and livestock, as well as a reduction in flood insurance premiums, and added value to their land and buildings.
No new development can afford to ignore climate change and the dangers it brings, even if planning departments would allow such imprudence. Flood protection at the earliest stages in the form of diversionary culverts, balancing tanks to store stormwater, pipehead walls and other pre-cast concrete units have simplified this vitally important aspect of design and planning. Croom Concrete's simple and flexible systems allow for a versatility in design that would have been impossible only a short time ago. The box culverts can accept a bend in a culvert run, as the units can be supplied with a taper of up to 10o per unit. Underground drainage systems as a precaution against flood damage make the best use of available building land, and minimise disruption to later work on site. Strong, durable and cost-effective, Croom Concrete's pre-cast units are the best defence against the dangers of climate change.
Quality control plays a vital part in Croom's manufacturing systems and every culvert that Croom Concrete supplies are individually designed and manufactured, and complies with the requirements of BS 5400 and BD 31/87.